In this post, we will be looking at a web hosting platform that has gained popularity over time, namely, bodHOST. Their motto is to help you build your online presence.
bodHOST, founded in 2002, aims to create an environment that consistently provides exceptional value through innovation, technology, and customer support from its locations in the United States, Canada, the United Kingdom, and India.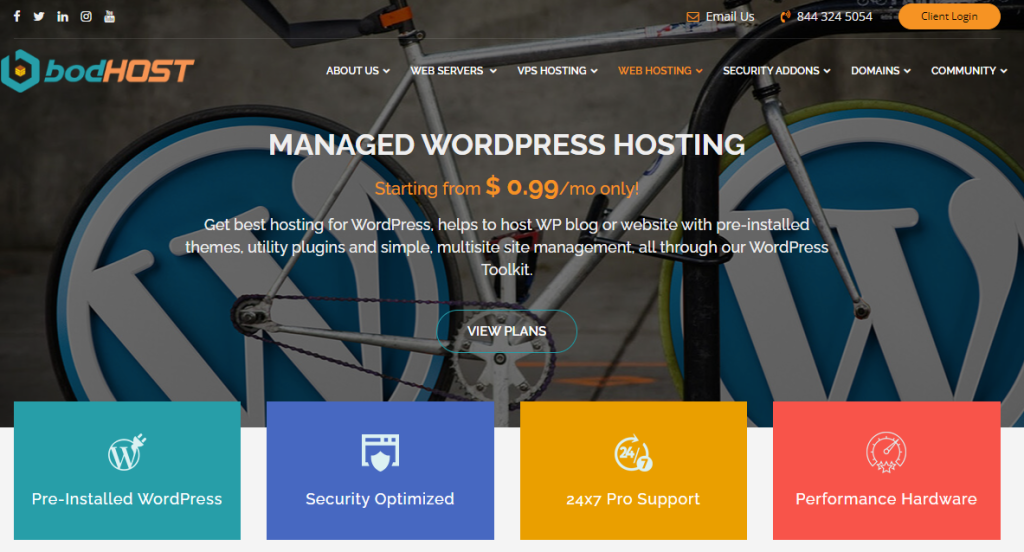 They offer numerous hosting services that range from shared hosting, reseller hosting, managed and unmanaged VPS hosting, to managed dedicated servers. But, does this hosting provider provide good value for money? Let's find out.
Plans and Pricing
bodHOST keeps its customers in mind and provides multiple plans for every type of need under each form of hosting that is significantly less expensive than the prices offered by many of its competitors in the industry. Whether you are a beginner or an e-commerce platform in need of a dedicated server, they have got you covered.
Every option under each category moves from basic to advanced plan. And each plan has more storage, bandwidth, and features than the previous one.
Here are the number of plans and price ranges that bodHOST offers under each type of hosting
WordPress hosting is the best option for a personal or creative blog. It is the best beginner-friendly platform and bodHOST offers 4 plans under this category which range from $0.99/month (for the lite version) to $12.99/month.
Shared hosting is ideal for someone with a small business or blogging needs. bodHOST offers Linux and Windows hosting with this hosting option
(i) cPanel hosting
bodHOST provides you with a cPanel control panel which is ideal for a Linux-based environment. You are provided with 4 plans that range from $0.99 to $7.99 per month
(ii) Windows Hosting
You get a Plesk control panel with windows hosting, and again you are provided with 4 options which range from $0.99 to $5.94 per month
bodHOST is one of the few hosting providers who offer reseller hosting solutions which naturally gives them an edge. With reseller hosting as well bodHOST offers solutions for both Linux and Windows systems, with 4 plans under each of them.
Additionally, the cPanel reseller hosting option comes with a cPanel or WHM control panel, as per your choice.
The cPanel and Windows reseller plans range in price from $5.99 to $14.99.
VPS hosting is ideal When one outgrows shared hosting but is not yet ready for a dedicated server. This type of hosting is ideal for mid-size firms. bodHOST offers managed and unmanaged hosting solutions to its customers. 
They offer 7 unmanaged VPS hosting plans along with 4 managed VPS hosting windows and Linux-based hosting plans. Here is how each of them has been priced on a monthly basis
– Unmanaged hosting: $6.99 to $129.99
-Managed Linux VPS hosting: $24.99 to $54.99
-Managed Windows VPS hosting: $29.99 to $59.99
Large commercial websites or eCommerce platforms that expect a high volume of traffic or need unlimited bandwidth should consider a dedicated server. bodHOST offers 3 options with an easy upgrade and feature-packed plans under this category which range from $137 to $196 per month. 
Pros of choosing bodHOST
bodHOST has data centers throughout the United States, Canada, the United Kingdom, and India. When you register, you can select your preferred location.
When looking for a hosting platform, the most important feature to look for is uptime. This specific web hosting provider offers exceptional uptime that you can rely on. bodHOST guarantees 99.95% uptime and they do live up to the promise they have made.
bodHOST excels at delivering customer support. Their approach is customer-centric. Whether you are a customer or a visitor to their site, they resolve all queries fairly quickly, their support service is open 24/7, and their support team is qualified enough to assist you with any issue.
For a beginner, the concept of web hosting itself may appear confusing, and navigating a complex website will only add to the confusion. And bodHOST understands that they provide a platform that is simple to use and easy to navigate. The dashboard practically has everything you need. Additionally, they believe in an open and transparent system. All of the plans with prices are aligned in one place.
Managed and unmanaged hosting
A managed hosting solution provides its clients with a wide range of services, including 24×7 server management, monitoring, maintenance, and addressing server breakdowns. For a person who is not tech savvy, managed VPS hosting is a saving grace.
And if you want complete control over your server, then bodHOST provides a solution for that as well through unmanaged hosting.
If you are switching from one host to the other, then bodHOST migrates your website for you for no added cost. Most likely, your website should be up and running within a day.
Features that come with a hosting plan
Depending on the plan that you choose, you will be provided with multiple features. If you go with the business cPanel hosting you get 99.95% uptime, unlimited emails, 24×7 support, 20 GB storage space, 200 GB bandwidth and you can host up to 25 domains.
bodHOST also provides add-on features to make your hosting solution completely secure. Some of the additional security packages offered by the provider include SSL certificates, spam experts, VTMSCAN, email certificates, and remote backups.
Cons of Choosing bodHOST
bodHOST's hosting options do not provide unlimited bandwidth. With shared hosting services, they supply a defined number of GBs. For example, the standard cPanel hosting plan comes with 50 GB of bandwidth, which is plenty for most needs. They do, however, provide unmetered bandwidth for VPS and dedicated server hosting.
bodHOST does offer multiple SSL certificate plans as an add-on feature, that one can choose from. However, it is not part of the hosting plans. One would have to purchase it separately.
The Final Word
Is bodHOST the most reasonable hosting provider?
The extensive web hosting services provided by bodHOST will undoubtedly suit the needs of customers of all sizes and scopes. You will receive excellent service and assistance while saving money. If you want solid, cost-effective, and speedy web hosting services, bodHOST is the way to go.
Read More Articles: https://techfily.com/category/business/